non-smoker.
1 bird. he doesn't wear clothes.
shipped within a week of payment.
located in US.
shipping to the US ONLY.
paypal only.
Last post - May 8th.
Feedback -
http://community.livejournal.com/fxc_feedback/91914.html
OR
http://naughtygrl7.livejournal.com/99817.html
SHIPPING STARTS AT $2.50. HEAVIER ITEMS = HIGHER SHIPPING.
ANYTHING OVER 13 OUNCES HAS TO GO PRIORITY, NO EXCEPTIONS. NOT MY RULE.
I'M LIKELY TO GIVE YOU A GOOD DISCOUNT IF YOU BUY ENOUGH FOR A FLAT RATE BOX.
PLEASE READ THIS BEFORE LOOKING AT THE CLOTHES
- I've tried to describe the clothes to the best of my abilities, but feel free to ask questions or for measurements/opinions.
- I'm no longer modeling clothes. I don't have time, sorry.
- Possibly open to trades...F21+ gray dove cardi and LB cami bras in 44D preferably!
- Open to haggling, preferably on multiple items.
- If you ask to be invoiced, please try and pay within 12 hours.
- First person to leave an email gets the item.
- ALL SPOTS ARE ON THE CAMERA, NOT THE CLOTHES. I try to wash everything before shipping.
- I AM NOT SHIPPING OUTSIDE THE US AT THIS TIME, SORRY. I WORK TWO JOBS AND DON'T HAVE THE TIME.
I'M ALSO SELLING MAKEUP HERE (HIGH END, MID END, AND DRUGSTORE)DRESSES
Forever 21+ Floral Tank Dress NWOT.
Size 3X.
This is lovely, but I can't find a reason/place to wear it. Brand new without tags.
$15.
Torrid Rockabilly Dress NWOT.
Size 18.
I tried selling this before and waffled on it, but it really doesn't fit anymore and never will, and I've never had a reason to wear it. It's truly gorgeous and gives you an awesome shape.
$20.
Alfani Embellished Ruffle Tank Dress NWOT.
Size 2X.
This has ruffles, hard to see in the picture, I know. I lightened it, but eh. I sold one of these on here awhile back and now I'm selling the one I kept for myself and have never worn. Gorgeous fit!
$15. (heavier to ship)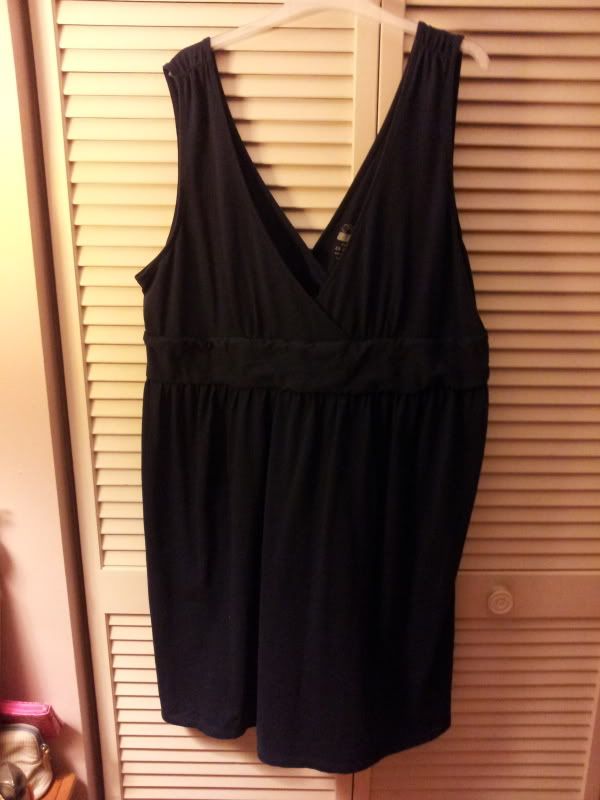 Old Navy Double V Dress.
Size XXL.
This dress runs waaaaay big. Too big on me at an 18/20. Would be better suited for at LEAST a 22. Its super stretchy and free in the hips, so it could fit a variety of sizes. No signs of wear.
$10.
TOPS
Forever 21+ Kangaroo Pocket Tank.
Size 2X.
Bought it off here NWT and wore it twice. Very cute tank but not my style anymore.
$7.
PENDING
ASOS Curve Sheer Panel T-Shirt.
Size 20.
Bought off here and never worn. Fantastic condition. Truly white...I hate that my camera makes it look dingy. This fits oversized on me at an 18/20. Second picture is not mine, BTW! I included it to show the fit.
$15.
Dorothy Perkins Puff Sleeved Top.
Size UK22 (US 20)
Bought off here and never worn by me. Light fading.
$8.
Pure Energy Gingham Top.
Size 2.
Bought off here, never worn by me. No signs of wear. Great top but not my style anymore.
$8.
Forever 21 Owl Crop Top.
Size Large.
Fits me at an 18/20. Boat neck style.
$6.
Torrid Asymmetrical Hem Butterfly Tank.
Size 4.
Bought off here but just too big for me. (SIDE NOTE: If you have this in a 2 or 3 and want to sell it to me, that'd be AWESOME).
$10.
PENDING
Pure Energy Asymmetrical Hem Rose Tank. NWOT.
Size 4.
Won off ebay, just too big for me. Never worn.
$10.
Torrid Crochet Tank.
Size 2.
Worn once by me. Gorgeous top. Empire waisted with fancy crochet.
$10.
ANA Striped Pocket Tee.
Size 2X.
Worn once or twice. Great condition.
$6.
Lane Bryant Paris Embellished Tee.
Size 18/20.
Worn once or twice. It's not dingy or off-white as the picture makes it...damn camera.
$8.
Avenue Body Cami.
Size 18/20.
Thrifted. In great condition, looks hardly worn.
$5.
Sofia Vergara Lace Overlay Cami NWOT.
Size XL.
Fits me at an 18/20. I ended up with two of these and only really need one. Brand new without tags.
$7.
Faith 21 Beachy Racerback tank.
Size 3X.
Runs small for a 3X. It's tight on me at an 18/20. Never worn by me and shows no wear, but I don't remember whether it's nwot or not.
$6.
American Rag Floral Tank.
Size 1X.
Some of the pearls on the bow are hanging by their threads, easily fixed. I have two and this one is just too tight now. Great condition.
$6.
Faith 21 Animal Print Tank.
Size 1X.
This is really stretchy. It's from when the Faith 21 line had just come out. Has a lot of piling/wear, but is more that it "feels" worn than looks it.
$5.
OP Tank NWOT.
XXL.
Never worn. Fits me at an 18/20.
$5.
MISCELLANEOUS
Underwear Lot (NWOT): $10
Hello Kitty boyshorts and plaid hipsters are XLs (stretchy)
Torrid pinup undies are a 2.
Makeup bags: $2 each. NWOT.
Leopard headscarf: $1
Green bracelet: FREE WITH PURCHASE
Swarovski crystal necklace and earrings: $10 for set
Heart earrings: $3
Piano doublefinger ring: $2
PENDING
GIR ring: $1
(OR TAKE ANY FREE WITH PURCHASE)
REDUCED REPOSTS
LYS (Love Your Style, Love Your Size) Floral Belted Dress NWOT.
Size 2X
Obviously no belt. I do have the belt in a 3X (pictured down a little further) if you want, but its WAY bigger than the dress. This dress is super soft and way more flattering than the picture makes it. Too baggy on me at a 2X/size 20...probably best for a 22 or maybe even a 24.
$10.
PENDING
Exhilaration High-Lo Skirt. NWT.
Size XXL.
Fits up to a size 20 comfortably. Super soft fabric, great print. I got this in three colors and won't wear this one. The high-lo hem is very in right now, and it looks awesome!
$8.
Avenue Straight Leg Tummy Control Jeans NWT.
Size 20 Tall.
These are a dark BLUE denim, not black. Nice stretch to them. They fit perfectly lengthwise for me at 6'1" and are very flattering. They are NOT skinny leg fit, they're straight leg, meaning they are a little baggy at the ankle.
$10.
Z. Cavaricci Capris.
Size 20.
Fits way smaller than a 20. I'd say up to an 18, or maybe a 20 if you have smaller legs. Light wear. I just got these off here a couple weeks ago and they don't fit =(.
$10.
Source of Wisdom Bootcut Jeggings.
Size 20.
Awesome jeans, just too short for my 6'1" frame. Plus these have no front pockets and that's a no-no for me. They're fantastic jeans, though. Great construction, fit amazing. Light chub rub.
$10.
LYS Blazer/Winter coat? NWOT.
Size 20.
This is meant to be a blazer, I think, but its really winter coat weight almost...so it'd probably be awesome for you gals who live in cold weather. Has fancy elbow patches (see second picture). This one has to go priority.
$15.
INC Striped Embellished Top.
Size XL.
Could fit a 1X/maybe an XXL. Its snug on me at a 2X. One of the epaulets is loose but can easily be sewn back on. Great condition, little to no wear (save the loose epaulet).
$6.
LYS lace-edged belt NWOT.
Size 3X.
Goes with the floral dress above, but is a different size.
$2 or free with purchase of floral dress.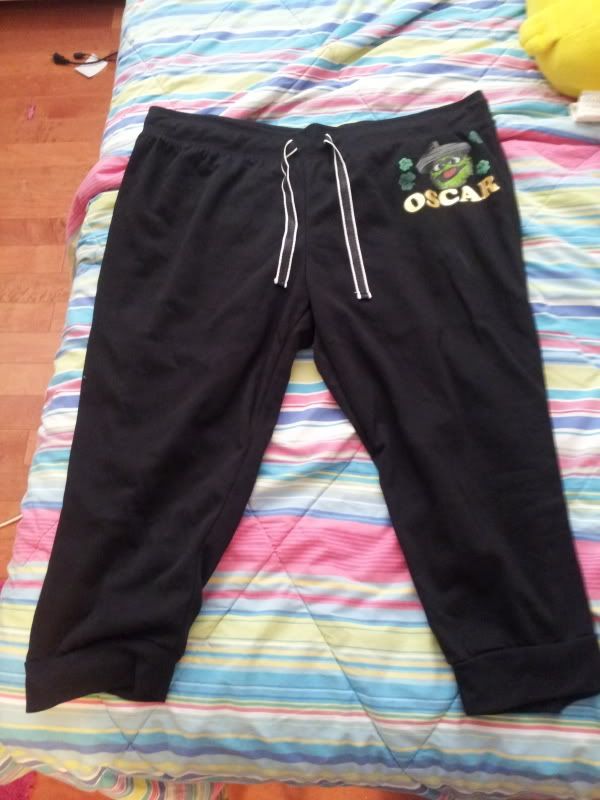 Oscar the Grouch sweatpant capris NWOT.
Size 2X.
Just bought and never worn. Tried on when I got home and they're too tight =/. Probably best for a small 20 or 18.
$4.
Sizes XL-3X; 14/16-22/24