- Dorothy Perkins 50s-esque dress
-1960s swing coat
- 1930s hand beaded dress
- Feather cape
- Boyfriend blazer
- 1960s brocade suit
- Shoes size 8
Posting from the UK. All sizes given are British.
I measure 47-41-51.
Post within the UK - included in price
Within europe - £4 extra per item
Elsewhere - £6 per item
The first person to reply with an email address to invoice secures the item for purchase :)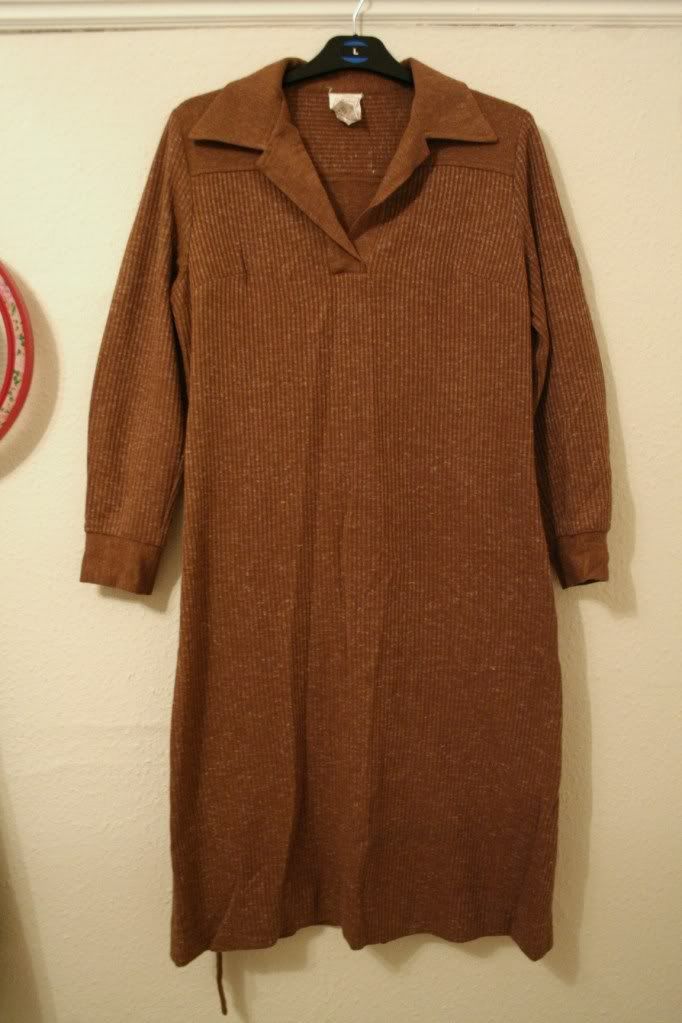 Vintage ribbed camel coloured shirt dress. This is labelled a size 14. Excellent condition and a super versatile day dress! Comes with it's own matching tie.
Bust: 40"
Waist: 38"
Hips: 44"
Length: 42"
all measurements with slight stretch
72% acrylic, 17% polyester, 11%linen
£13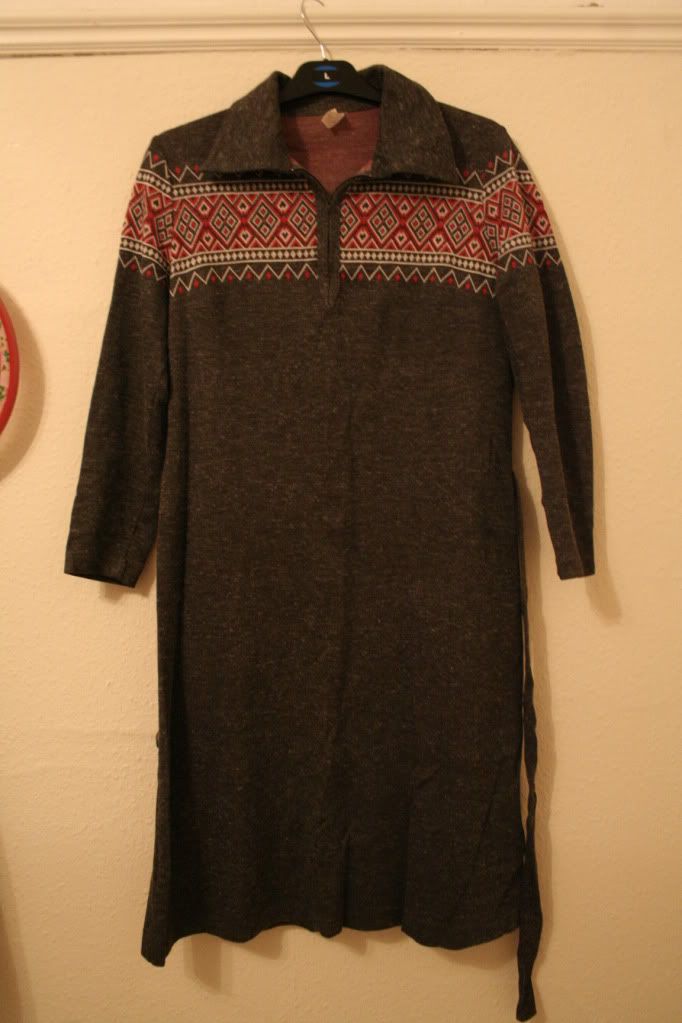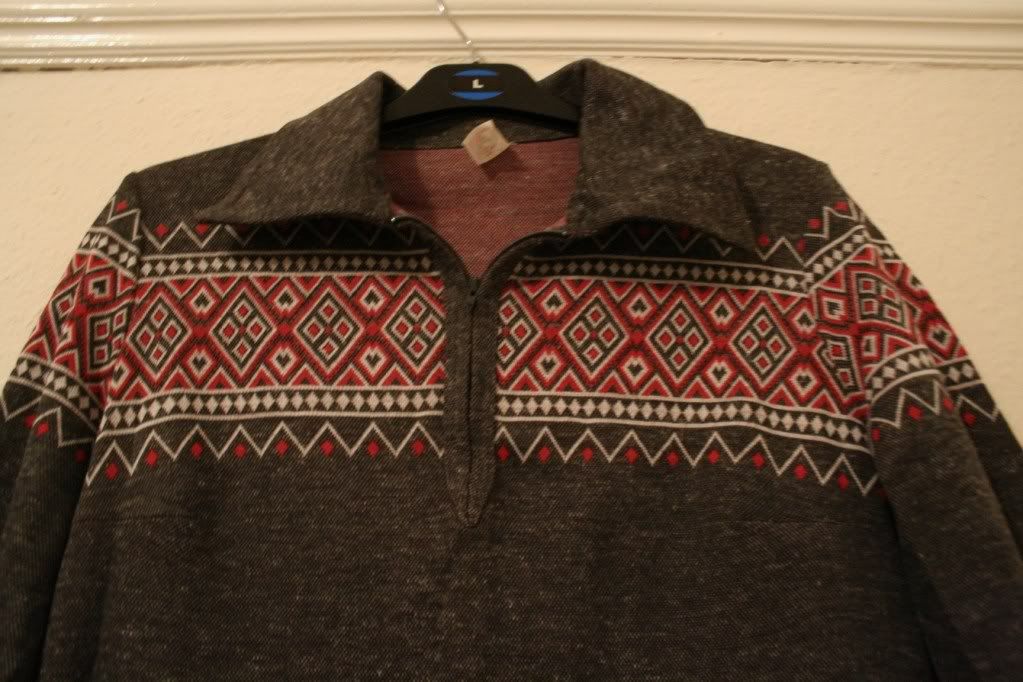 Vintage grey shirt dress with patterned chest and zip up front. Has it's own matching tie. Beautiful day dress. Excellent condition.
Bust: 42"
Waist: 36"
Hips: 46"
Length: 41"
all measurements with some stretch.
Material not stated, but feels thick, possibly another acrylic blend?
£15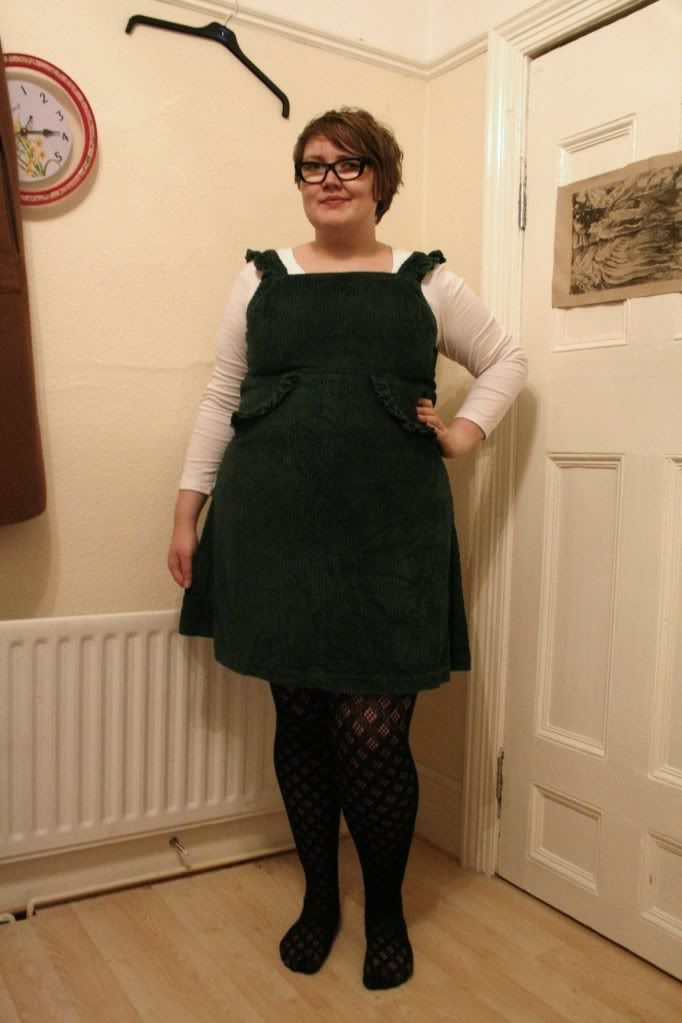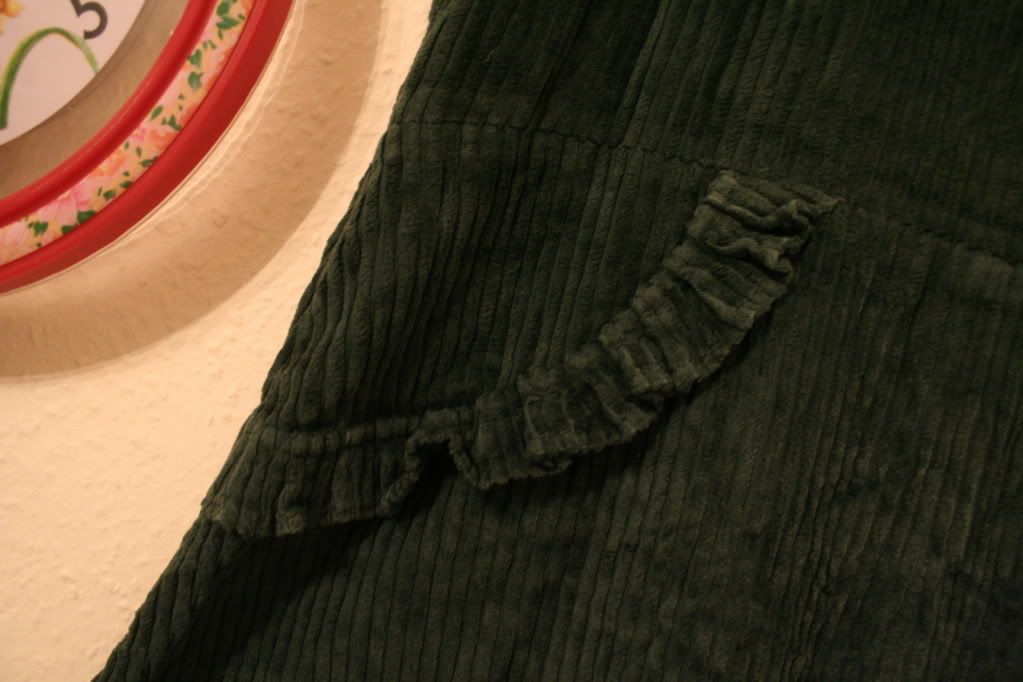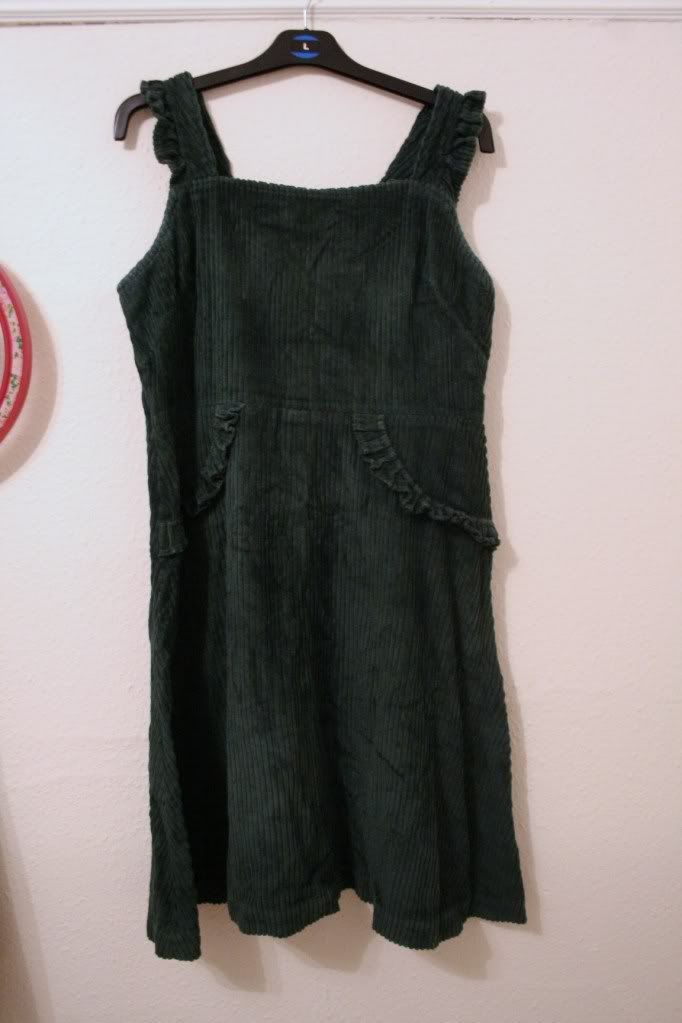 Vintage 1960s emerald green corduroy pinafore dress. Wide set straps with ruffle trim, fitted shape, zip up shape and full skirt with ruffle accents on the hips. Skirt is fuller than it looks on me (I'm much bigger than the dress, but wanted to give an idea of how it fits!). Excellent condition, though has a definite vintage smell currently! Looks to be handmade.
Bust: 42"
Waist; 35"
Hips: Free
Length: 38"
£18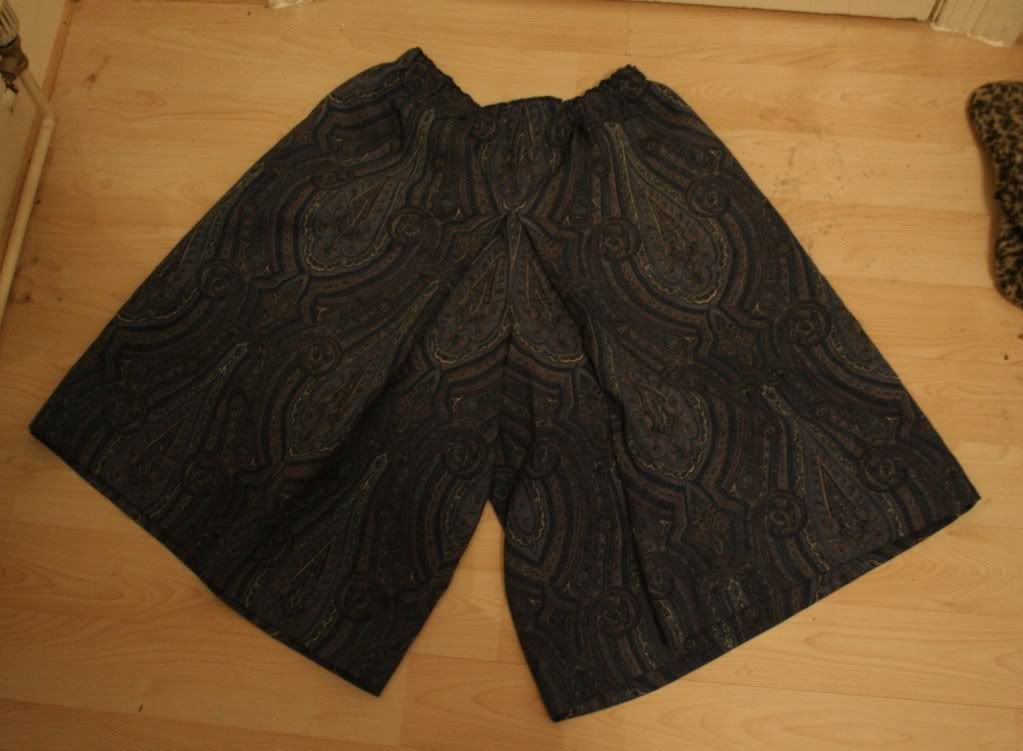 Vintage 1970s handmade blue paisley palazzo style culottes. Liberty print fabric with central pleat. So on trend for a 70s look! Elasticated waist. Fully lined.
Waist: 32-40"
Hips: Free
Inner leg: 16"
Length from waist to hem: 27.5"
Not sure about fabric content?
£15
Black feather cape from Miss Selfridge. Never worn by me. Real feathers with polyester lining.
£9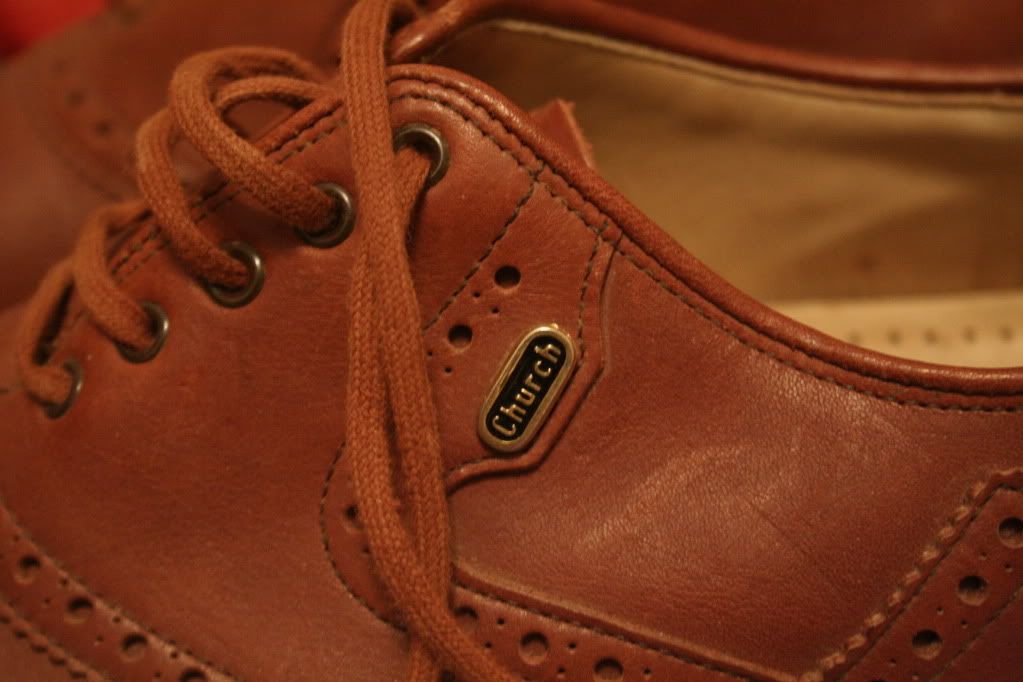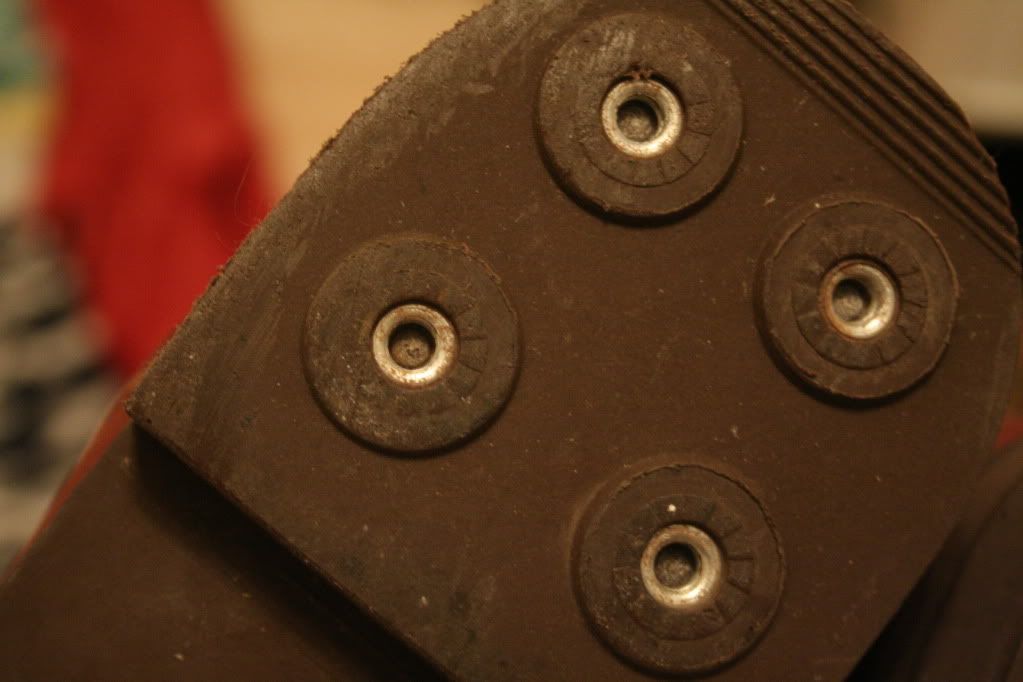 Vintage mens brogues in a size 8. I think these used to be golf shoes? By Church. Fit me well as a large size 8.
£12 (these are SO HEAVY, so I won't go lower than this)
Vintage 90s floral grunge maxi dress by Evans. Short sleeves, very stretchy. Viscose. Some slight ripping around the right shoulder, but only noticeable up close. Belt not included!
Bust: 50"
Waist: 46"
Hips: 56"
Length: 53"
All measurements are minimum, will stretch more.
£15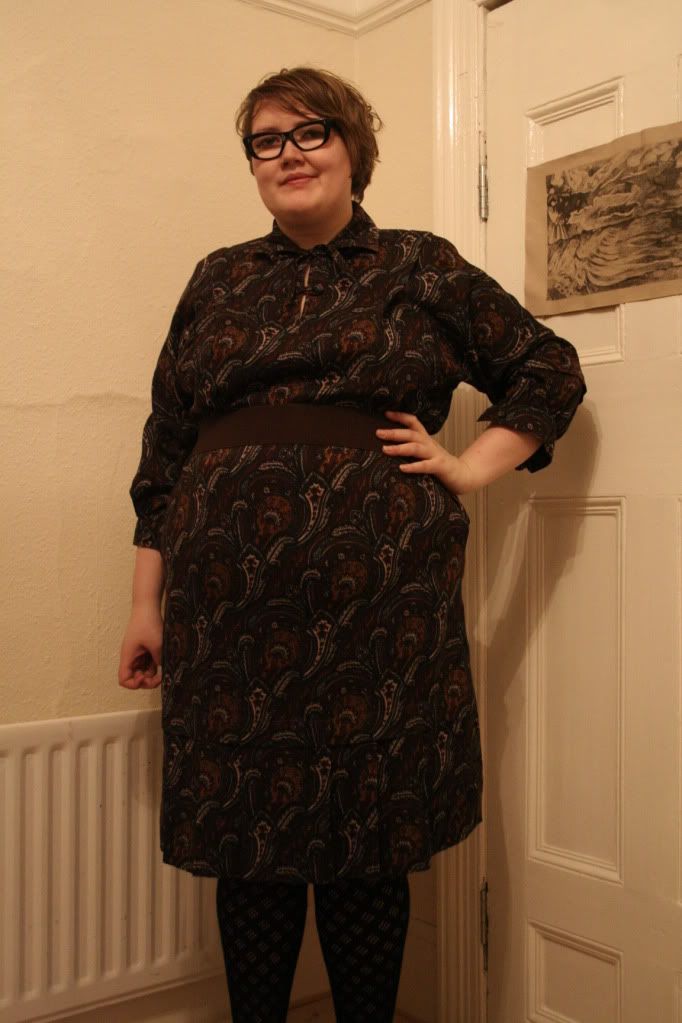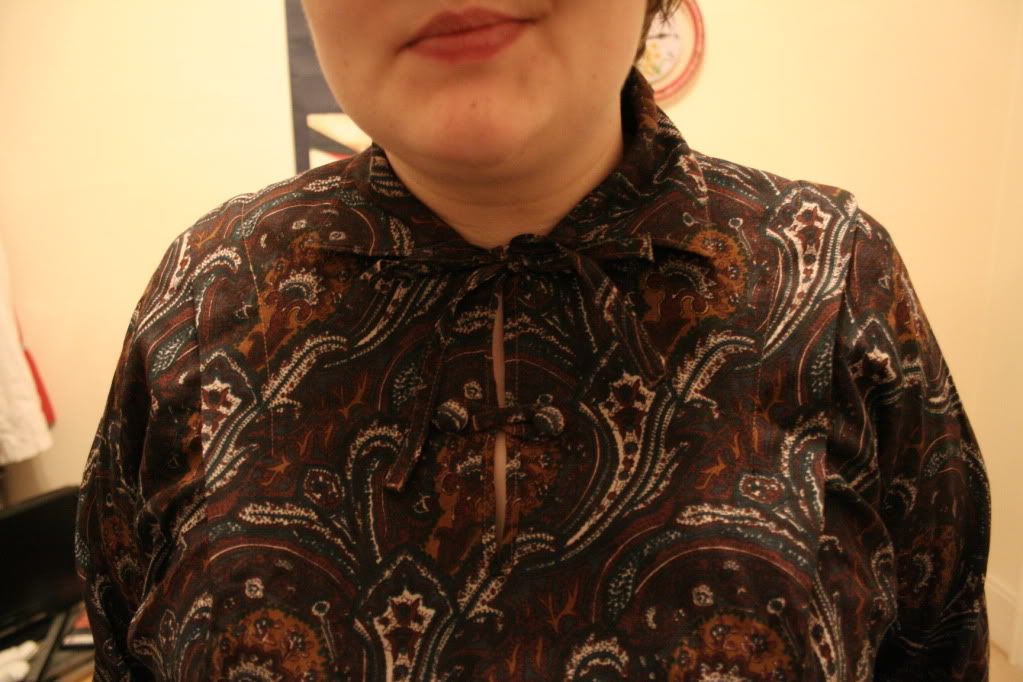 Vintage brown paisley shirt dress with pussy bow collar. Long sleeves, with actate lining. Ruffly hem. Comes with a matching tie (the belt shown is not included in the sale!)
Bust: 50"
Waist: 50"
Hips; 52"
Length: 43"
The lining runs slightly smaller, I measure 47-42-51 and find it a tad tight around the hips.
Polyester
£15
Vintage 1960s (with 50s style) shirt dress in cream and brown houndstooth check pattern. With a button up front, fitted waist (and in built belt) and full skirt, this is a timeless shape. Labelled size 16, M&S.
Bust: 42"
Waist: 34"
Hips: Free
Length: 39"
Material: Polyester
In good condition, no faults visible to me, but the label is faded with a name written on in permanent marker.
£15
Vintage 1980s boyfriend jacket in yellow and cream houndstooth. With long sleeves (that can be turned up as per the pictures), double breasted buttons and pockets. One of the underarm areas has a large seam break - this will need repair before wearing, but should be an easy job.
Bust: 44"
Length: 28"
Labelled size 18 UK. May also fit larger if you want to wear it open.
£10
Tapered peg leg trousers in black and white houndstooth pattern. With a lightly stretchy waistband, high waist and skinny leg, these would look amazing teamed with a vintage blouse and jumper or shirt and tie for a menswear inspired look.
Labelled size 20, though with stretch and a generous waist measurement so should suit a 22 also.
Waist: 44"
Hips: 48"
Inner leg: 26.5
£10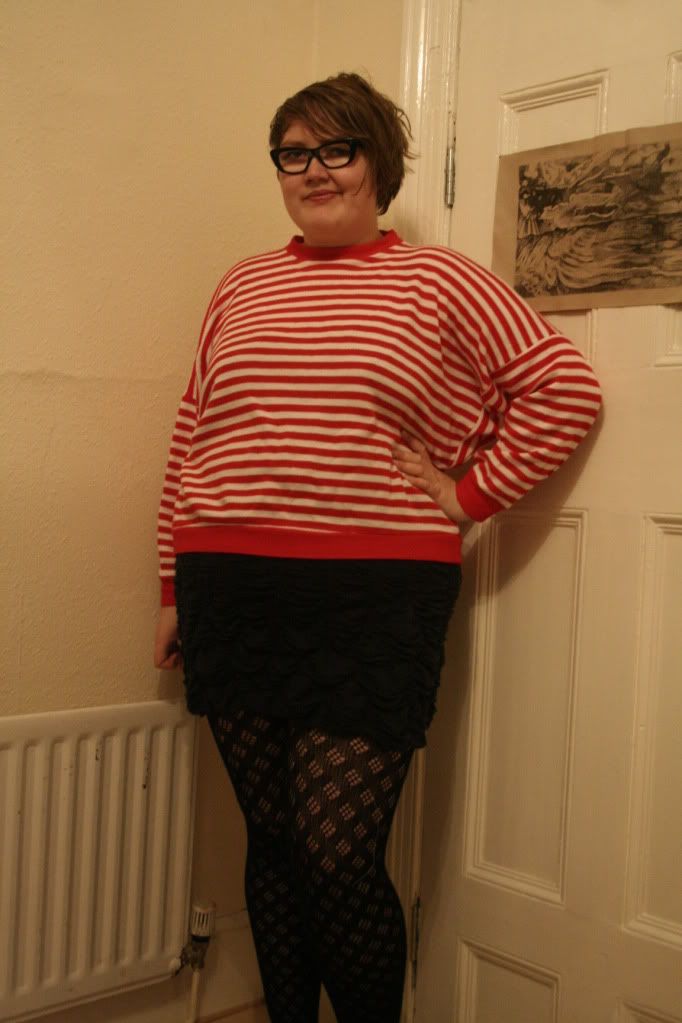 Vintage oversized red/white stripey sweater with batwing sleeves.
Bust: up to 62" with batwing (will stretch a good 5" more if you want a more fitted look)
Waist: 46-56"
Length; 23"
£10
Material not stated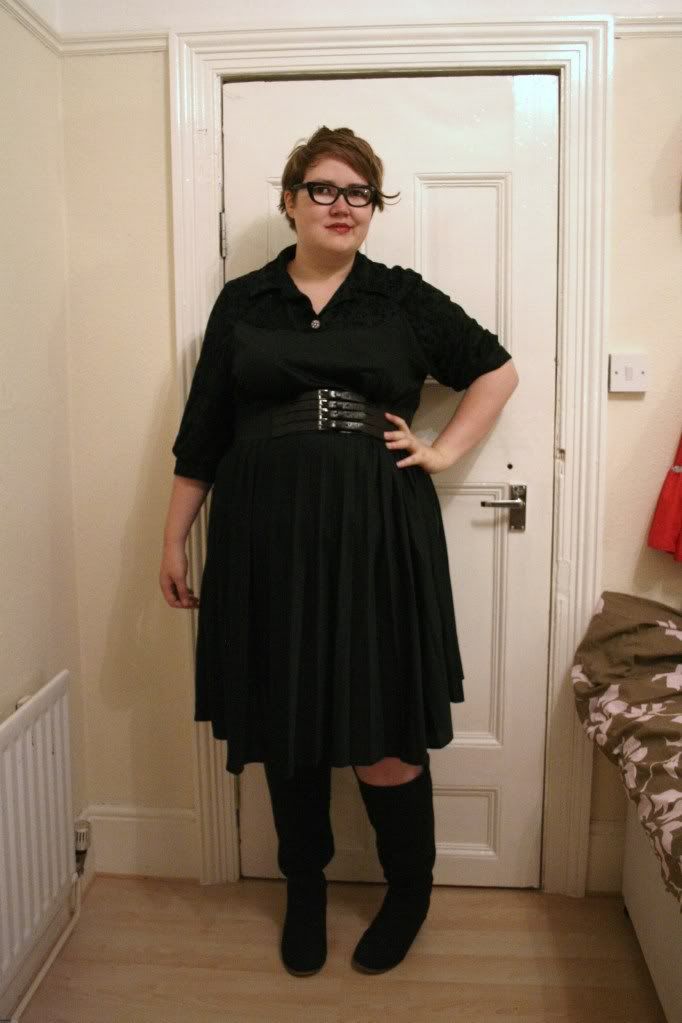 Vintage tent dress with flower sparkly upper and trapeze style cut. Belt not included in sale
Bust: 58"
Waist: Free
Hips: Free
Length: 45"
Polyester
£13
The most awesome shirt ever! Goth gone cowboy gone embellished heaven! Black long sleeved shirt with shoulder pads, fringing, tacky buttons.
Bust: 56"
Length: 31"
£10
Vintage 1930s evening dress in purple, with blue/silver hand beading around the neckline. This has faded in places, around the back of the neckline and on the skirt as shown, though to be honest I only find these noticeable up close. The zip needs some attention, although the dress is wearable as is. Despit this, the dress is in really good condition for it's age, and looks to be handmade.
Bust: 48"
Waist; 42"
Hips: 48"
Length: 50"
Rayon
£35 (very reluctant sale)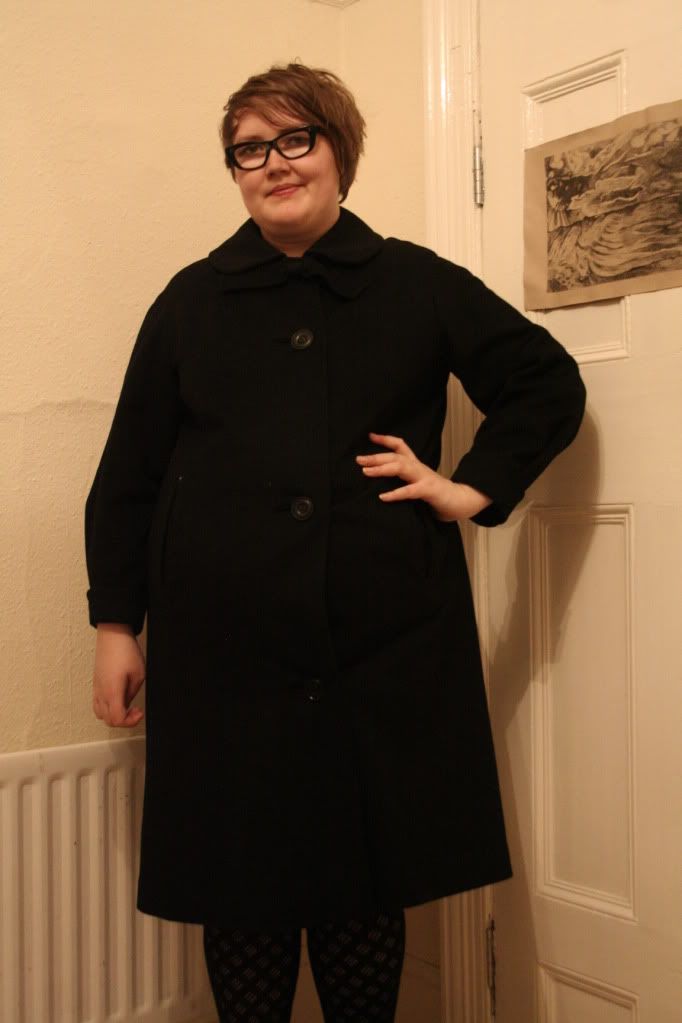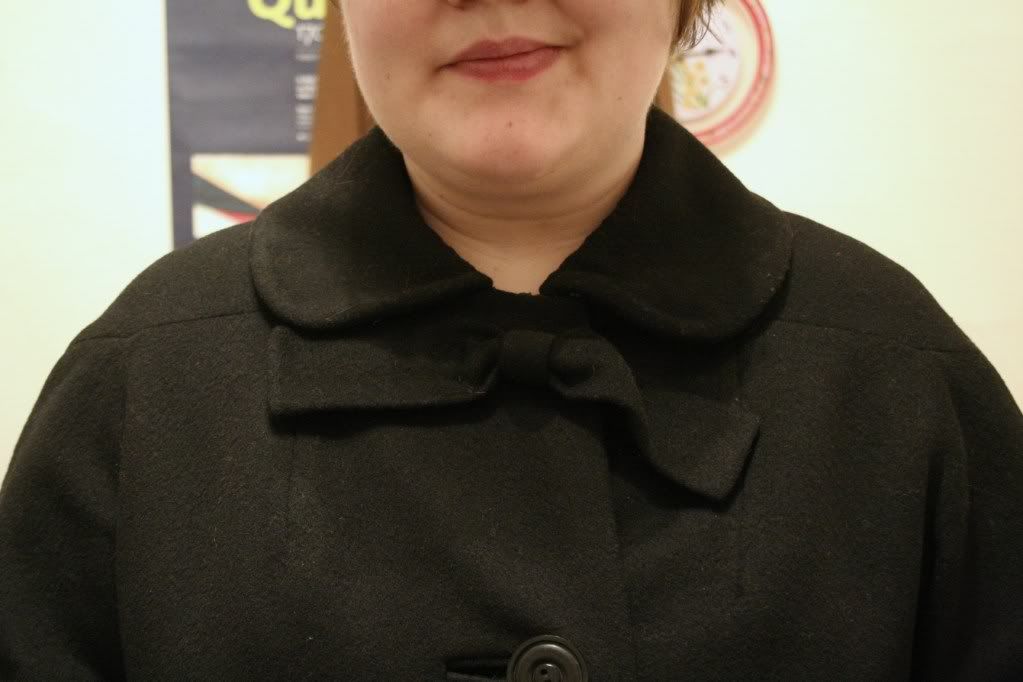 1960s swing coat in black, with the most adorable bow fastening around the neckline.
Has a tear above one of the pockets - wearable as is, but maybe needs fixing to prevent further damage. There is also a small seam break under one armpit.
Bust; 50"
Waist: 50"
Hips: 54"
Feels like wool with acetate lining
£40 - no international postage
H&M pink ruffly mini skirt. Labelled size L but will comfortably stretch to fit me.
Waist: 32-42"
Polyester
£15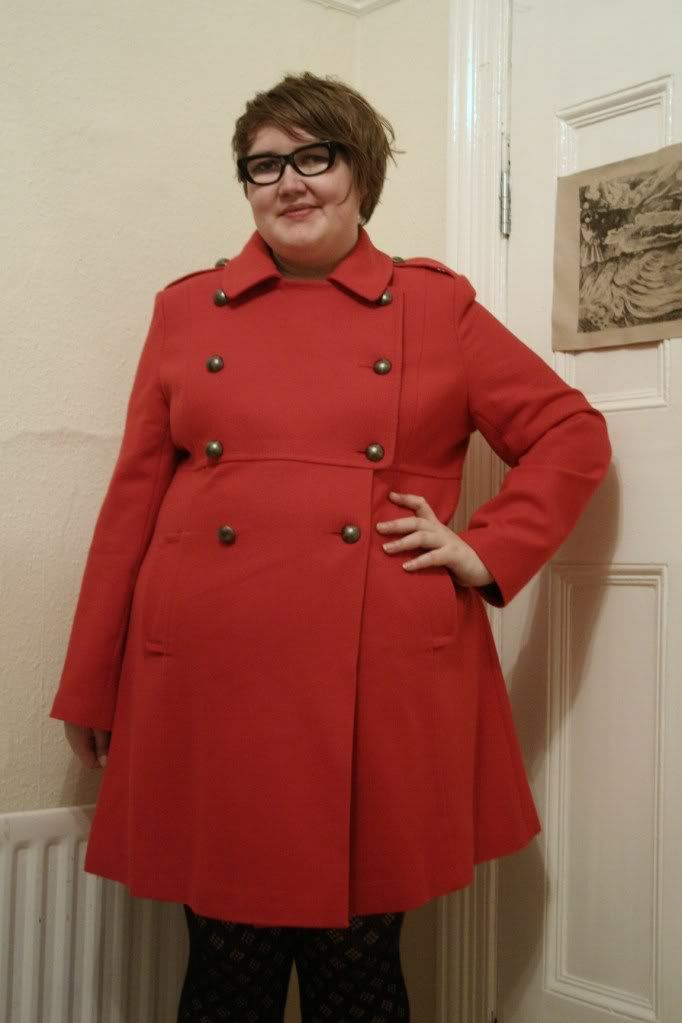 Red double breasted winter coat by F&F. Size 22, but should fit a small chested 24 also. Worn very little by me - still has spare button attached.
Bust: 50"
Waist: 48"
Hips: 50"
LEngth: 38"
56% wool
44% viscose
Poly lining
£30 (super heavy to post) - no international postage
Silky floral slip, size 20/22ish
Not worn by me, though second hand
Fabric not stated
£5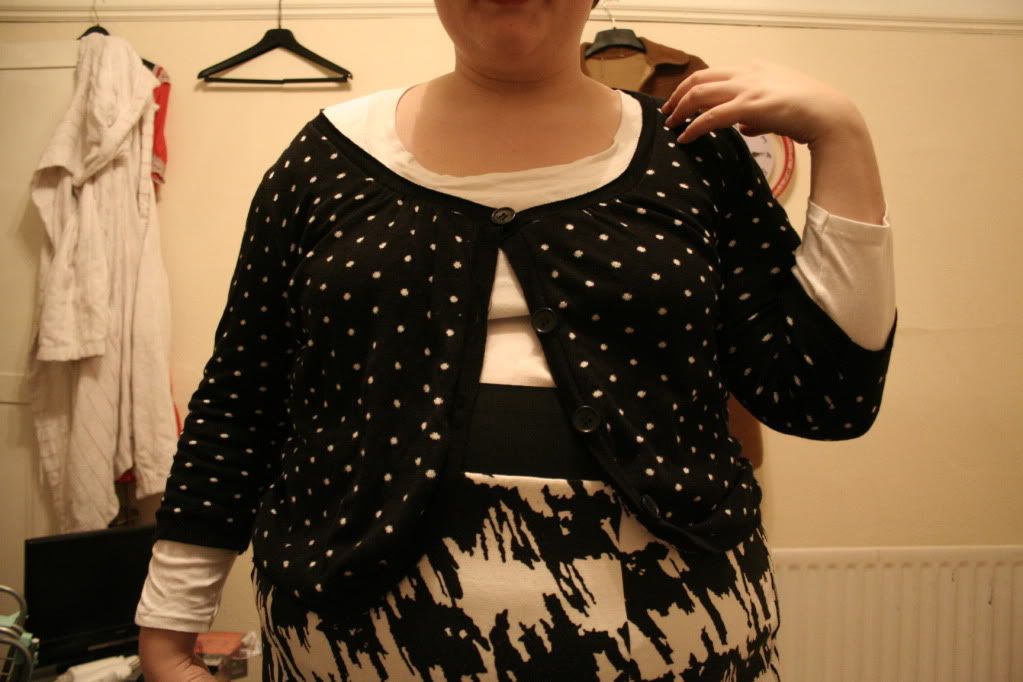 Polka dot cardigan, size 20 from George
54% viscose, 46% cotton
£7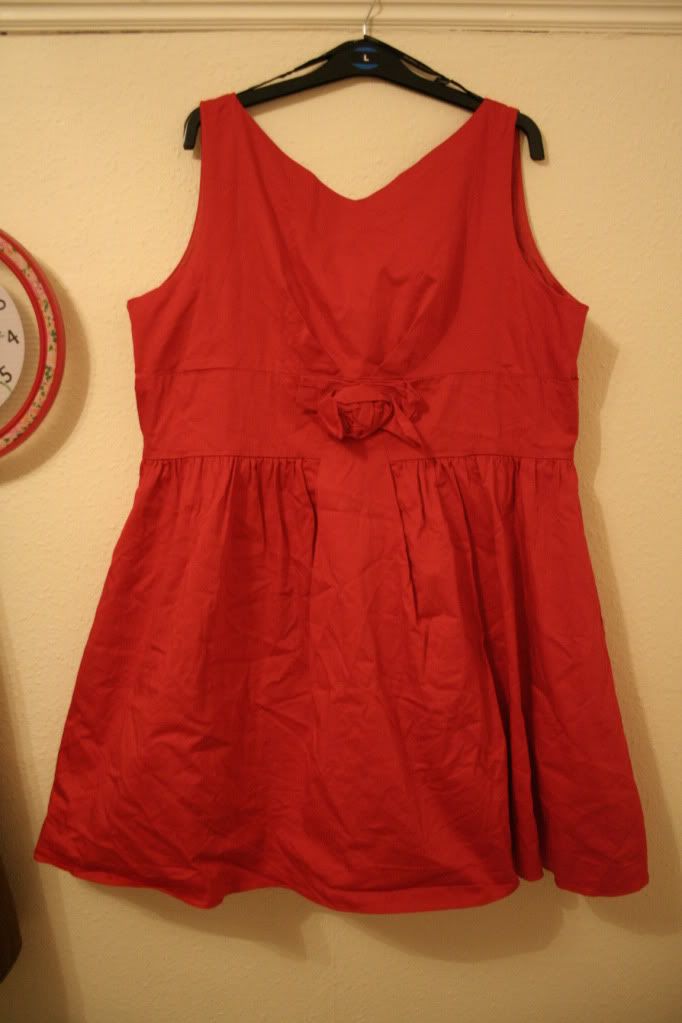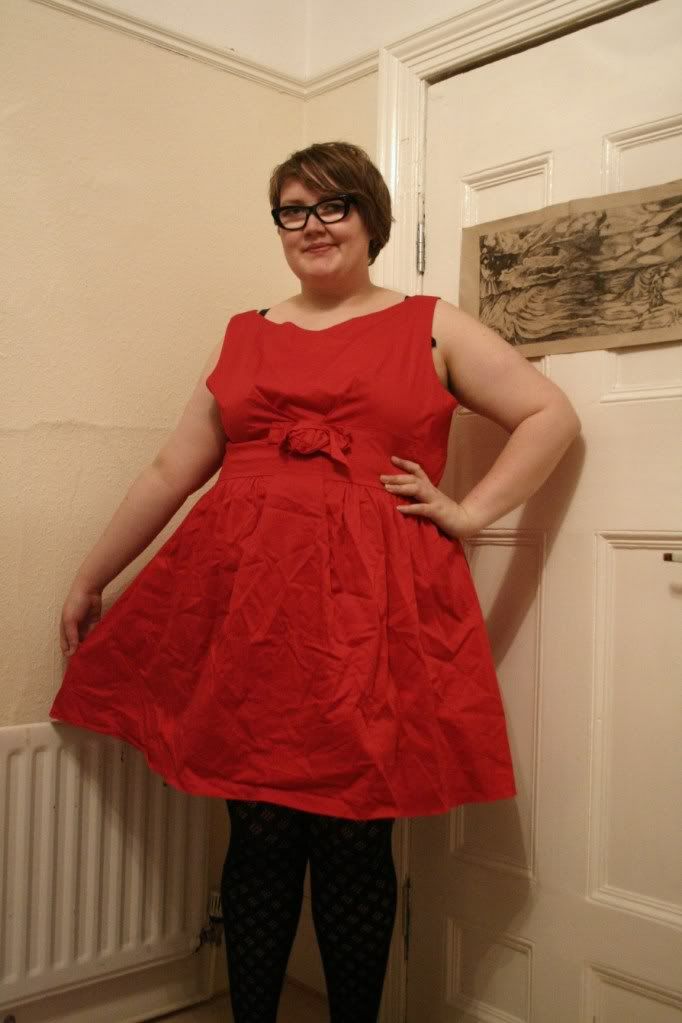 Red 50s esque bateau neckline party dress from Dorothy Perkins. Size 22 but very generous so might suit a 24 also? This has a tulle underskirt and a beautiful rose motif on the waist.
Bust: 50"
Waist: 44"
Hips: Free
Length; 38"
96% cotton, 4% elastance, Lining polyester, net nylon
£20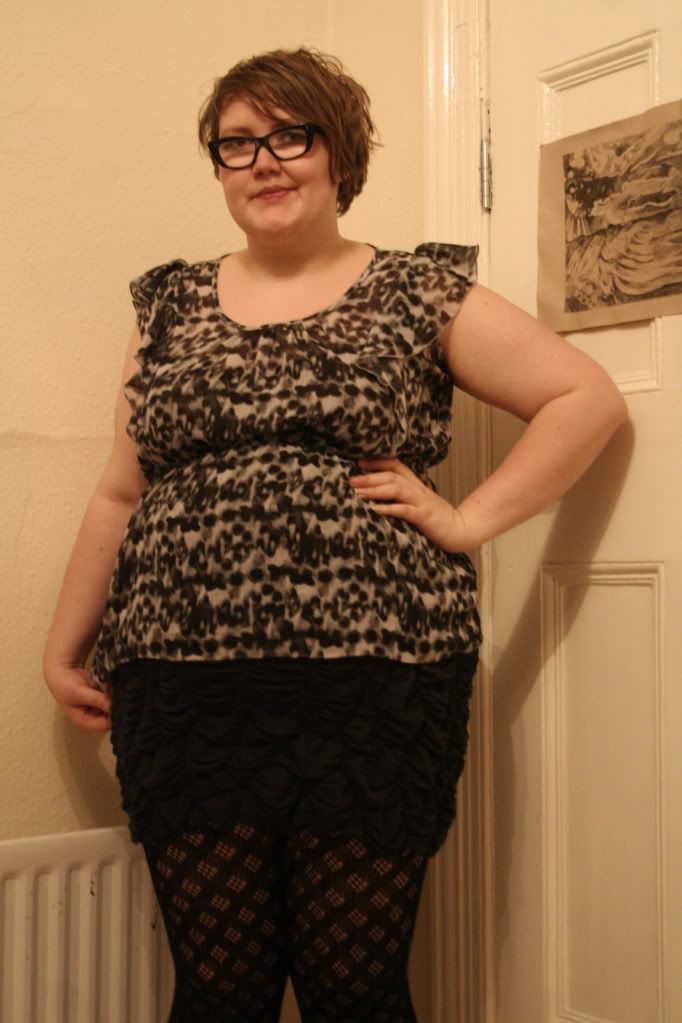 Leopard print top, from Primark, size 18 (but very generous - fits up to 22)
Bust: 50"
Waist: 36-48"
Length: 27"
£5
Polyester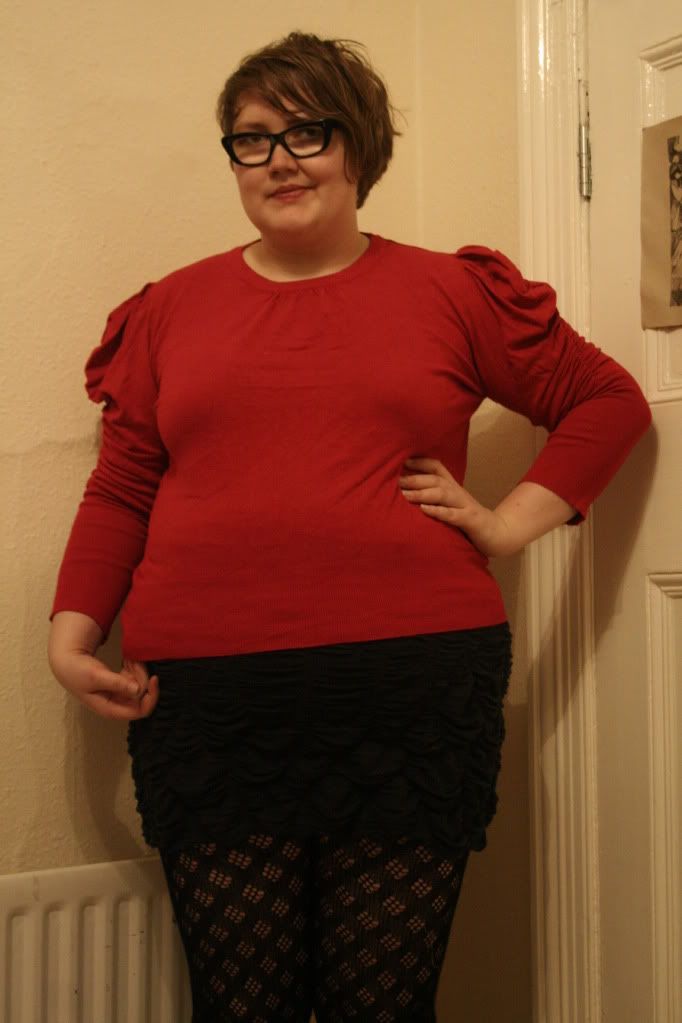 Red jumper with shoulder details. Size 22 from tesco, never worn. Should also fit a siz 22.
80% viscose, 20% nylon
£5
Yellow floral skirt with hanky hem from Dorothy Perkins. Size 22, but fits generously.
Waist: 44"
Hips: Free
Length: 19-21"ish
£8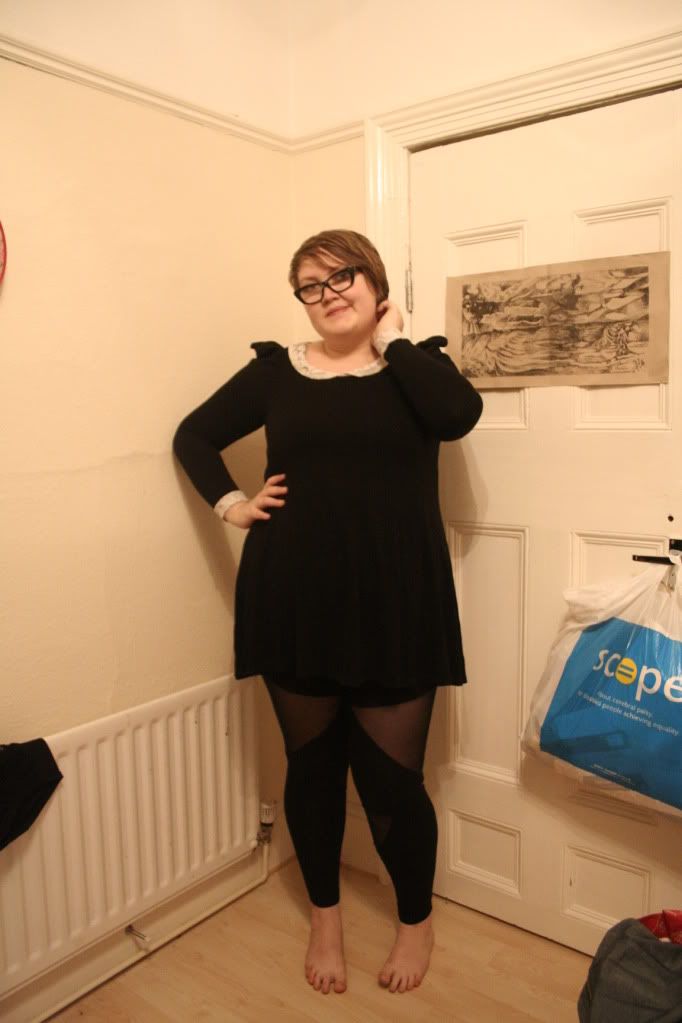 Black mod style tent dress with lace peter pan collar. Size 16, Primark, but will easily fit up to a 20/22
£9
REPOSTS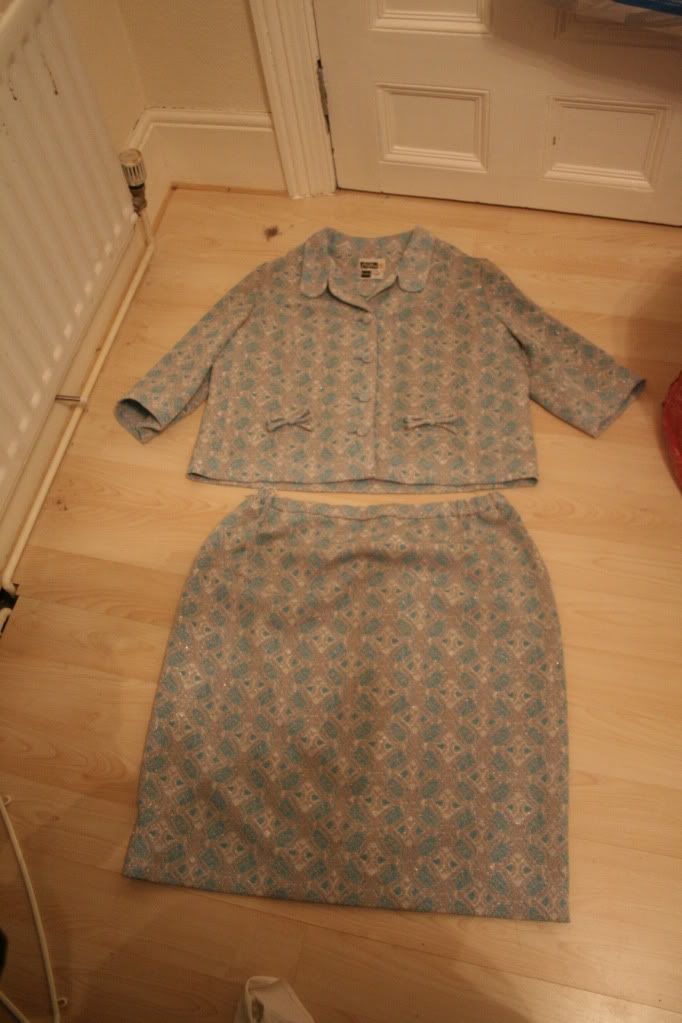 AMAZING vintage blue sparkly brocade suit in a vintage size 26. The skirt has an elasticated waist and the jacket is button up with cute bows! Find of a lifetime!
Jacket: Bust: 52"
Length: 23"
Skirt: Waist: 36-44"
Hips: 52"
Length: 26"
Material: Crimplene
£30 (because it's amazing!)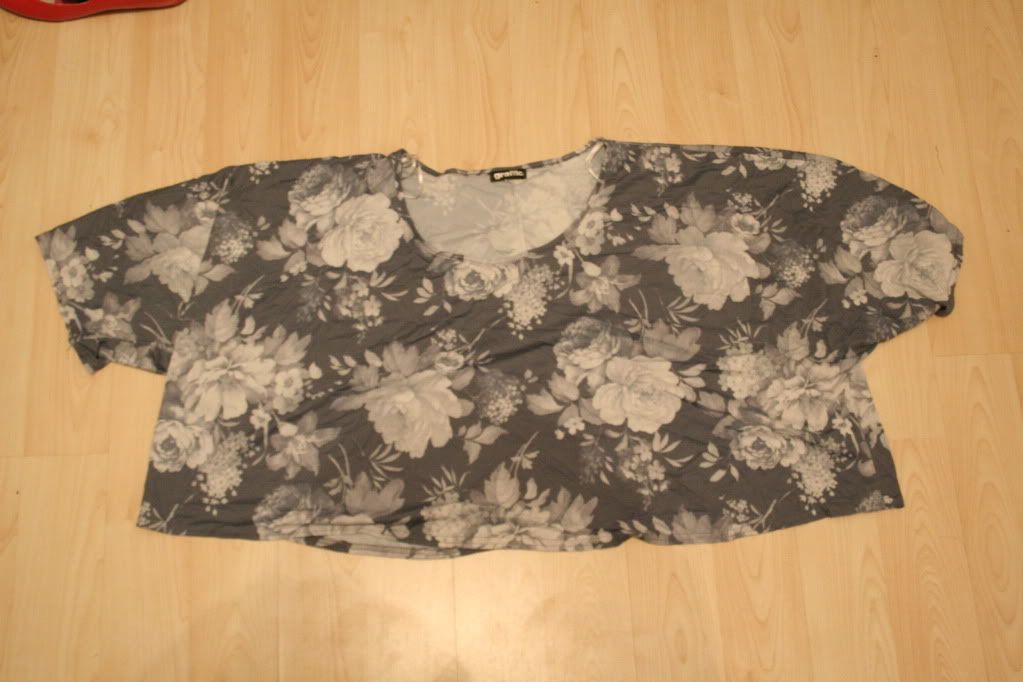 Cropped top in a 90s floral pattern. Size L straight size, although
Nylon
£5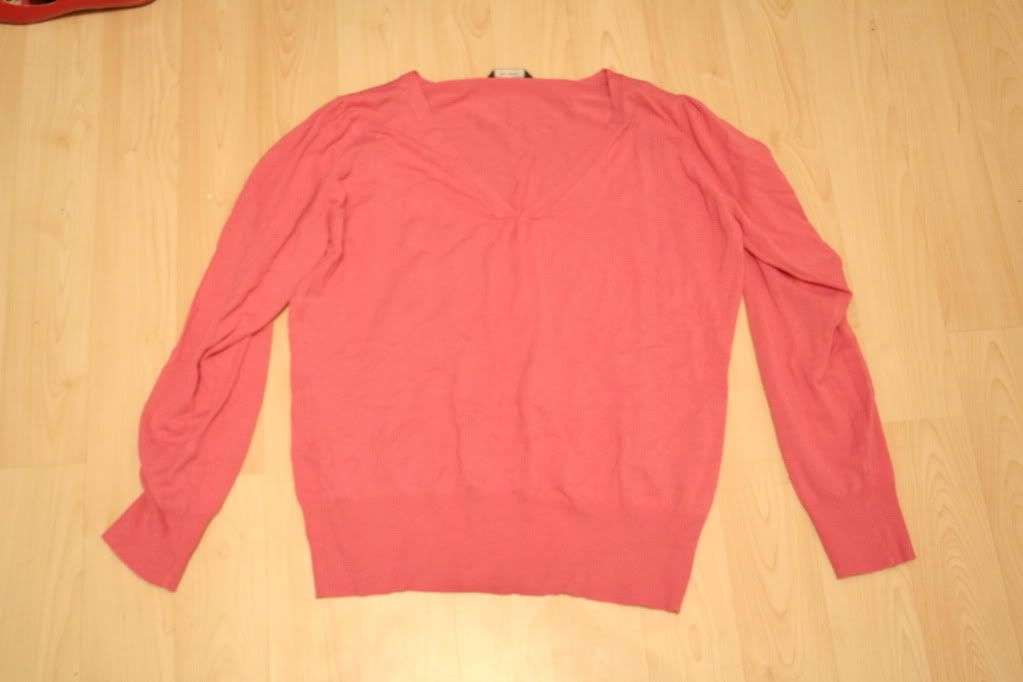 Hot pink v-neck jumper, Dorothy Perkins size 22
£5
Strapless top with ruched detailing in purple glitter. Size 20 dorothy perkins.
90% viscose/10% metallics
£4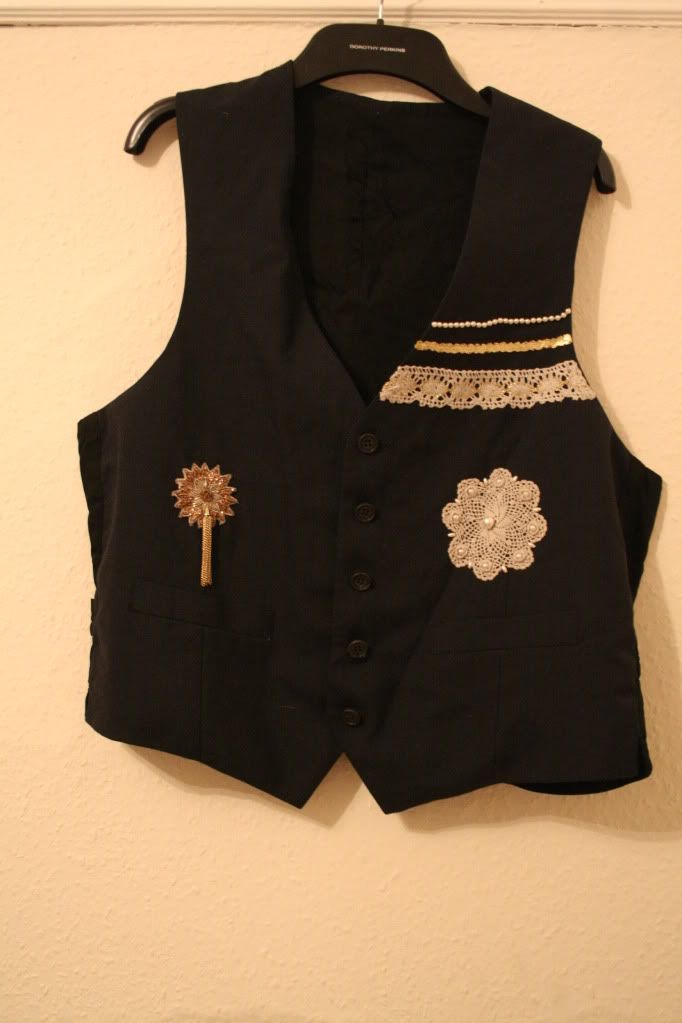 Unisex navy waistcoat with embellishment galore! Nautical much?
Chest: 44"
LEngth: 21"
£10
Polka dot button up blouse. Size 22 by Inspire.
Cotton
£8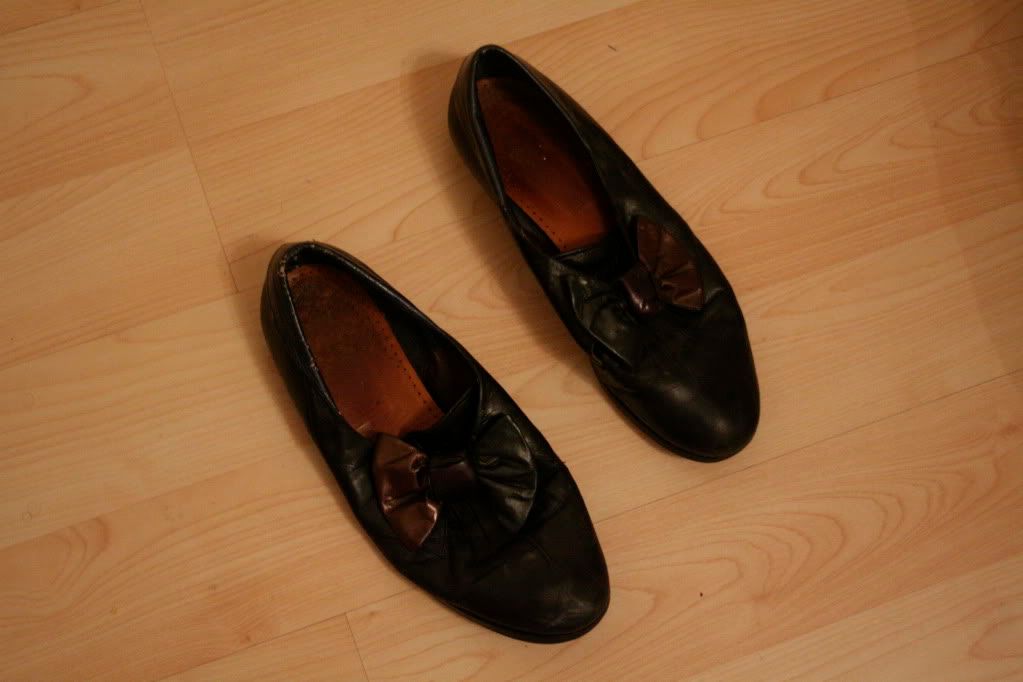 Vintage shoes with bows. No size but best for a small size 8. Quite wide. £15 (international types - these will cost more than my flat rate to post)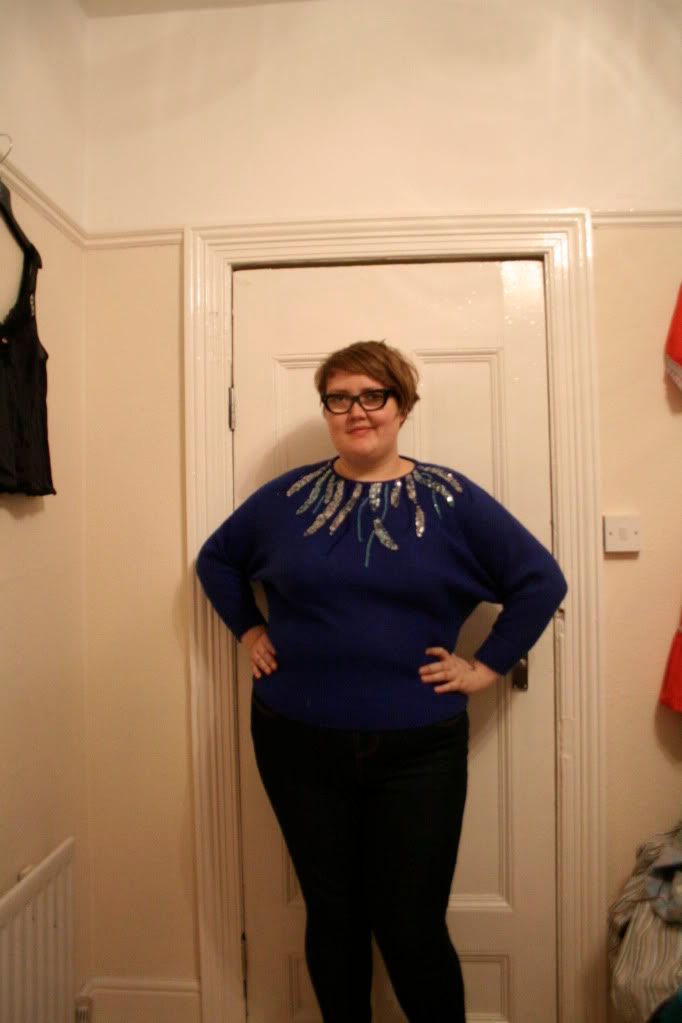 Vintage batwing jumper with embellished front. Size 20 but will suit a 22 also.
Acrylic/nylon
£10
Vintage oversized cardigan. Labelled size 20 but will fit larger.
Bust: 52"
Acrylic/cotton
£8
Vintage 90s playsuit.
Bust: 48"
Waist: 44"
Hips: Free
£18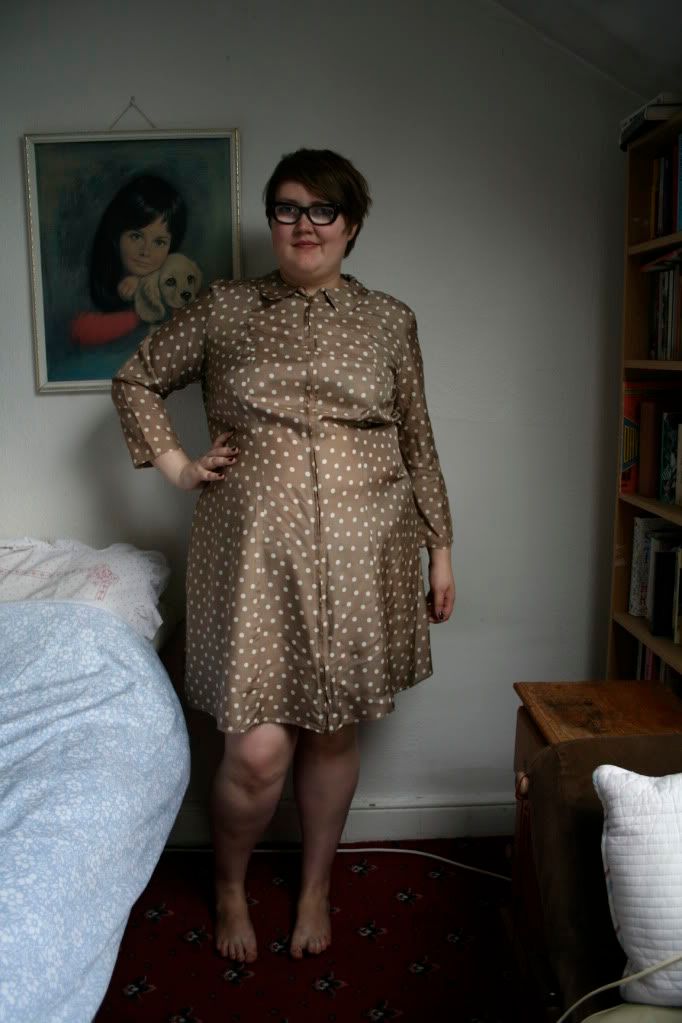 Authentic 1940s brown polka dot shirt dress with zip up front. I love this, but I don't think I'm booby enough for the top half! Had tears in the elbow area which I had professionally repaired, but is noticeable if looking.
Bust: 52"
Waist: 44"
Hips: 54"
Length: 40"
Material: Rayon, I think?
£30 (beautiful condition, and uber rare find)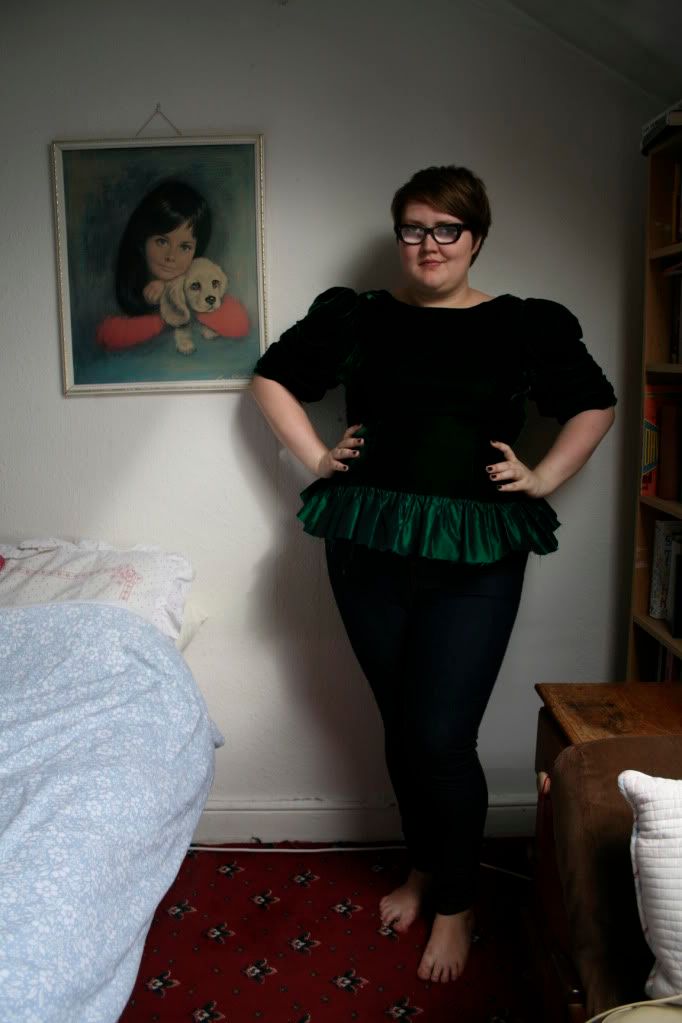 Top made out of a green vintage prom dress. I basically just hacked most of the skirt off and didn't hem it, so it has a rough hemline. Big puff sleeves, low back and bow! Super cute with skinnies and heels.
Bust: 48"
Waist: 42"
Length: 28"
Rayon/Acetate
£12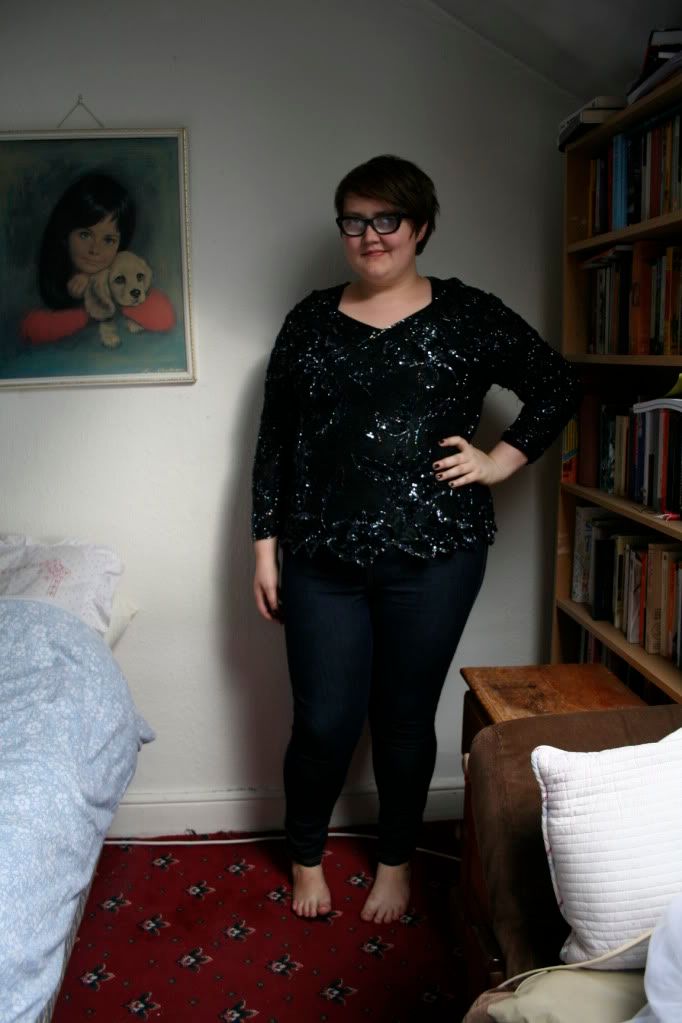 Heavy duty sequinned/lacey long top. Size XL but should fit a variety of sizes up to 22 depending on fit.
Bust: 48"
Length; 27"
Rayon
£15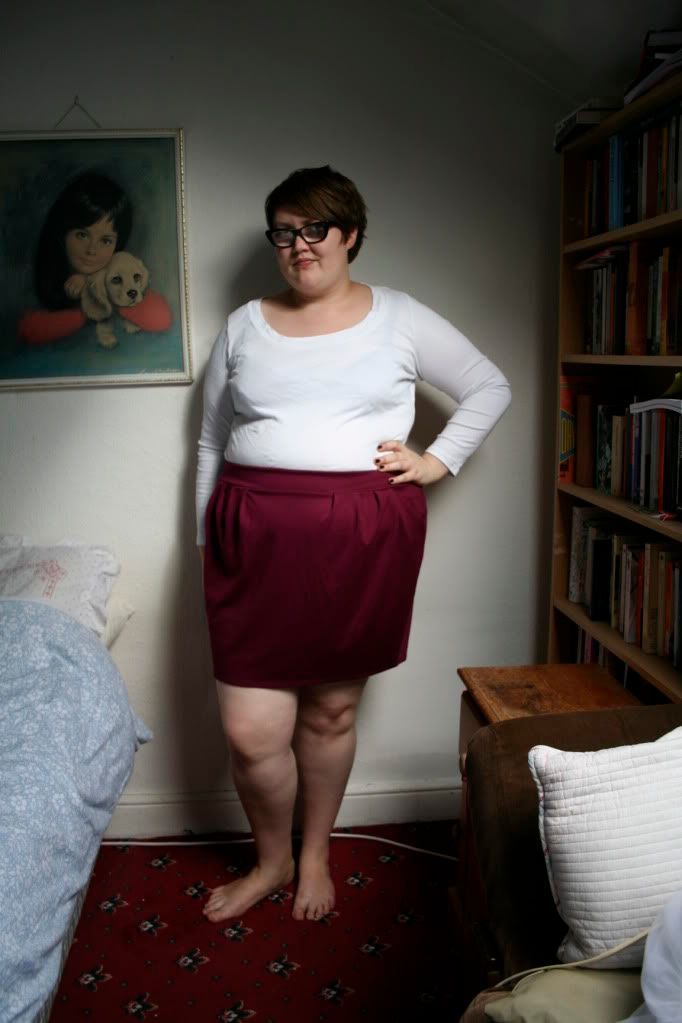 /Jersey purple tulip skirt with elasticated waist. Size 22 but super generous.
Waist: 46-50"
Hips: 56"
Length: 19"
75% polyester, 19% viscose, 6% elastane
£5
LOTS OF NEW ITEMS - VINTAGE, SIZES 14-30+ (MAINLY 18-22) + HIGH STREET ITEMS AROUND 16-24.